Information on the Municipality
Sotkamo is a developing and active municipality in Northern Finland, and it is located in the southern part of the Kainuu Region. The neighbours are the town of Kajaani in the west, the municipalities of Paltamo and Ristijärvi in the north, the town of Kuhmo in the east, and the town of Nurmes and the municipalities of Rautavaara and Sonkajärvi in the south.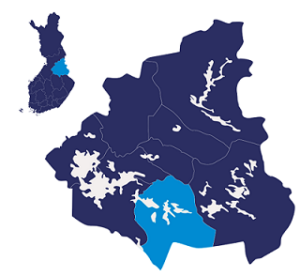 Sotkamo Municipality was founded in 1647. In the end of year 2022, there were 10 354 residents in Sotkamo. Although the population of Sotkamo Municipality has been decreasing moderately, approximately 100 new residents have been born each year. A vital municipality, a healthy resident and a smart use of resources are Sotkamo's strategic cutting edges, with which the position as one of the most significant municipalities in Kainuu is strengthened. Sotkamo's five strong industries are tourism, forestry, agriculture, berry industry and ores.
The Sotkamo town centre is situated in a scenic area, surrounded by water. The famous beaches of Hiukka, long sandy eskers, and verdant nature create comfortable conditions for living and spending a holiday. Vuokatti, another built-up area in the municipality, is the centre of tourism and sports life. The tourist services of Vuokatti are high-quality year round. Vuokatti slopes, the sports resort, the sport academy, Katinkulta holiday resorts, multiple accommodations, and rural holiday villages are located near Vuokatti, in the peaceful nature.
There are many active villages in the area of Sotkamo municipality.
Alasotkamo, Heinämäki, Halmetvaara, Jormaskylä, Juholankylä, Juurikkalahti, Kaitainsalmi, Korholanmäki, Kontinjoki, Laakajärvi, Losovaara, Naapurinvaara, Nuasjärvi, Ontojoki, Paakinmäki, Parkua, Pohjavaara, Riekinranta, Sapsoperä, Saukko, Sipinen, Sipola, Soidinvaara, Sumsa, Suovaara, Tipasoja, Torinkylä, Tuhkakylä, Vuokatti, Ylisotkamo, Ärväänkylä, Maanselkä.
Connections
The nearest airport is located in Kajaani, as is the railway station for passenger transport. You can view public transport timetables from the links below.
Flying by Finnair between Kajaani and Helsinki